From the earliest times that I had first discussed my plans to sail to Australia, I have been told about how terrible the Gulf of Carpenteria would be. This a a body of water that is 300 miles wide and 400 miles long. The average depth is only 20-30 meters at the north end, shallower in the south. The shallow waters make for waves that are very steep and very close together. For small boats, 1 meter seas in the Gulf can be worse than 3 meter seas elsewhere.
Part of the reason we had been sitting so long in Gove was to wait for favorable weather. This is indicated by a low over Tasmania which turns off the SE winds. We were lucky and a just the right pattern appeared on the day we set sail. So holding on to our stomachs off we went.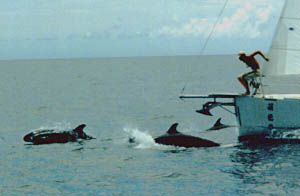 Phil climbs out on the bow of le Dragon du Maud to get a closer look at the dolphins riding our bow waves.
The first day saw very pleasant SE winds and about 10 knots allowing us to motor sail at 7-8 knots out into the gulf. There the wind died completely. For the next 3 days we had completely calm conditions. In fact the seas we so flat, we were wondering if we were in the right place.
On the third day in the gulf we finally had some dolphins that were interested in riding the bow waves. Just one or two at first, eventually we counted 25 of them bouncing back and forth between le Dragon du Maud and Dragon's Toy. They would ride one bow wave for a while and then shoot across to the other boat and ride that one, then come back. After watching for awhile, I went below and dug up my book on sea life. It turned out they were species of dolphin called the false killer whale. The largest of the dolphins known to ride bow waves. The ones we saw were 3-5 meters long. They stayed with us for about an hour before getting bored and heading off to the southwest. This provided the only excitement of our 3-½ day crossing of the gulf.