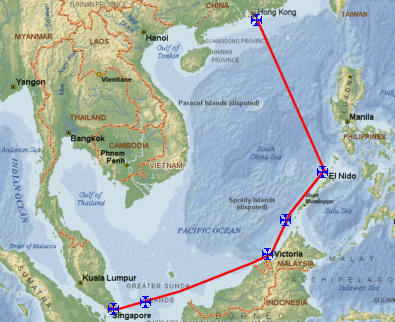 Click on the X's to read the narrative for each of the places that we visited.
The voyage from Hong Kong to Singapore was really a delivery trip. I had just been transfered from the Hong Kong office to the Singapore office. This was at my request to be closer to Siew Pheng, as well as some distance from my new manager whom I did not get along well with.
We made the distance in 18 days with a one day stop over in El Nido and Victoria. All but about 20 hours of the passage was under motor as we were in dead calm to 5 knots from the SE the entire time.
Unfortunately, I do not have the photos that I took of this voyage with me, so the descriptions are all text only.