Well, Dave was sitting there in the dark at 3 in the morning all by himself with only his imagination and this set of lights for company. Before long he became convinced that this must be a pirate vessel that was stalking us waiting for just the right moment to pounce. Just before sunrise, another ship appeared behind the "pirate" boat. This one was brightly lit and moving quickly. Surely this must be the mother pirate ship coming in the kill.

In an effort to be prepared Dave dug out the flare and the boat hook to fend of the blighters. Just incase that did not deter them, he had his mask and fins ready so he could dive over the side and swim for shore.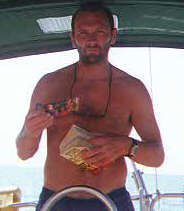 Dave D. after a rough night fending off the pirates of Madura.