Gladstone is the Aluminum processing center on the Australian East coast. Here the ore from Gove and Weipa is converted to its pure metal form. Gladstone is also a coal export town. Coal that is mined inland is loaded on ships here.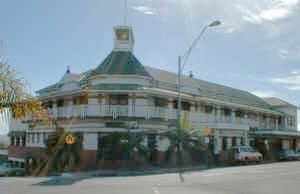 The old hotel on top of the hill in Gladstone. From the top of the hill you can see the harbor and well inland.
The Gladstone marina is one of the nicest on the Queensland coast. It is very modern and well laid out. The only draw back is that it is about a 20 minute walk into town. Even farther is you are looking for a grocery store.
One thing that I did find at the Life Stream shop was what has to be the best Banana Smoothie that I have ever tasted. It was very cold and thicker than most thick shakes. Almost stayed an extra day so I could go back.